This review is posted here in partnership with Soundnews.net. It was originally written and published by Sandu Vitalie of Soundnews.net on Feb. 24, 2020.
---
When I've tested the SMSL SP200 headphone amplifier I've felt how much this company is pushing the envelope into an affordable Hi-Fi market. SP200 is still the most affordable THX AAA headphone amplifier on the market and it performs admirably even with heavy loads.
SMSL released a product line that is even friendlier with your pockets, which promises great performance at less than $250 per component. It is their S-8 line of which 3 products have been released so far: SU-8 Balanced DAC, SH-8 Balanced headphone amplifier and the DA-8 integrated amplifier that was upgraded recently to a new version, called DA-8S that I will be testing today.
If you are wondering what exactly was changed on DA-8S compared to its predecessor, let's have a closer look:
The biggest change is the power increase, from 50 W per channel into 4 Ohms on its predecessor, to a whopping 80 Watts per channel into the same load on the newest DA-8S. Thanks to newest class-D Infineon modules which are very power efficient (up to 92%), DA-8S will provide heftier power output for your speakers, will consume less AC power and will have a cooler case.
Another big change is the inclusion of the Bluetooth input that was implemented in the newer revision. DA-8S comes with a Bluetooth antenna and the internal BT chip is capable of receiving SBC, AAC and AptX codecs. Add a super stable BT version 5.0 and DA-8S should work nicely in a wide-open space, even with few concrete walls between it and the BT source.
The price dropped considerably, from $269 for the DA-8 to a very attractive price of $169. We get a bigger power output, an additional input (Bluetooth) and a lower price. Budget audiophiles rejoice!
Lastly, the THD slightly increased, SNR and Chanel separation decreased which is not cool, but understandable given the price difference
1. Inside the Box
When it picked it up, I was surprised how lightweight and small is the actual product box. Opening the box full with protective foam, DA-8S integrated amplifier looked much smaller and lightweight than I anticipated. At just 1 kilo (2.2 lbs) and at only 185 x 125 x 40 (W x D x H), it looked more like a toy than a powerful integrated amplifier. I am still not judging books by their covers as I still remember how SMSL SP200, Headamp Gilmore Lite MK2, Erzetich Bacillus, Burson Fun, Bang and Playmate performed at the same size and weight, so I keep my hopes high.
In the box, you'll find an external power supply, a power cable, a much-needed remote control, a user manual in English, a Bluetooth antenna and the DA-8S unit itself. There isn't an interconnect cable in the box so you will need to provide one if you'll be using the RCA or the XLR input.
2. Design & Build Quality
SMSL moved the power supply outside the box, this is one of the reasons DA-8S could maintain the same size and look like the rest of the S-8 Line. Both the SH-8 and SU-8 have an internal power supply and as a result, are a bit heavier. If you use fancier power cables, you can use them with SH-8 and SU-8, but not with DA-8S.
DA-8S design can be summarized as a silver aluminum brick as it doesn't attract a lot of attention, the volume wheel sticks out just by 1 mm, making it look on the same level with the case. The OLED screen is really small and you can change some of its settings only when sitting close to it. This is one of its main flaws as DA-8S will be mostly used in the living room far away from the listener. I personally can't see the volume level at 2.5m away, I can't change any setting, I can only spot the selected input. With the next iteration, I would increase the display size, I would put it in the middle and would move the volume wheel on the far right.
The screws are hidden on the back and underneath the unit, which is making it look clean and simple. I would like to have a black color option too; it would make it almost invisible in the living room. It has rubber feet underneath in small cut-outs so those will not wobble around and the metal case has smooth rounded edges.
3. Connectivity & LCD Settings
The front panel looks clean, there is a volume wheel in the middle, a small OLED display on the right and an On/Off button on the far right. Normally the LCD screen will show you only the selected input or the volume level. You can navigate through the menu using the volume wheel, the power button, but it's much easier by using the included remote control.
On the back, you have the 24 V DC input, a pair of speaker outputs, the Bluetooth antenna socket, an RCA and an XLR input.
4. Menu Options
While it is powered on, a short press on the power button will enter the menu where you can select:
Inputs: XLR, RCA or BT input
BT setup – engages the BT mode, search it with your BT source, connect to SMSL BT5.0A and you are ready to stream some wireless music. A long press will reset the BT connection.
EQ Mode with 3 positions: Direct, SDB and Tone. If you want the cleanest signal, go with Direct mode.
Treble, you can change its position from -10 dB to +10 dB, if you enable it, EQ mode will automatically change to Tone mode
Bass, you can change its position from -10 dB to +10 dB, if you enable it, EQ mode will automatically change to Tone mode
DISP Mode – Inputs or Volume (you can select if in the default menu it will show the selected input or the volume level)
Dimmer: Offers 4 brightness positions, Auto Display Off will turn the display Off after 5 seconds of inactivity, it will be turned On if any button is pressed.
Included remote control worked better for me as it has direct buttons for EQ, Input selection, volume selection, mute and power On/Off.
5. Tech Inside DA-8S
DA-8S is a fully balanced input to output integrated amplifier with the main circuitry based on the super-efficient Infineon Technologies Class-D amplifier modules. The exact module is MA12070 from the MERUS line. You can learn more about these modules right here.
It uses large Siemens capacitors as coupling caps and audio grade Nichicon caps as filtering caps to ensure a good transient response and slam.
The volume pot uses the NJW1194 digital volume control chip for perfect matching between both channels. This one is a low noise, low THD, 2-channel volume control chip that should work decent enough on this particular hardware.
DA-8S outputs up to 80 Watts in 4 Ohms or 40 Watts per channel in 8 Ohms, it is more than enough for most bookshelf speakers, it will power even sensitive stand-floor speakers to loud levels.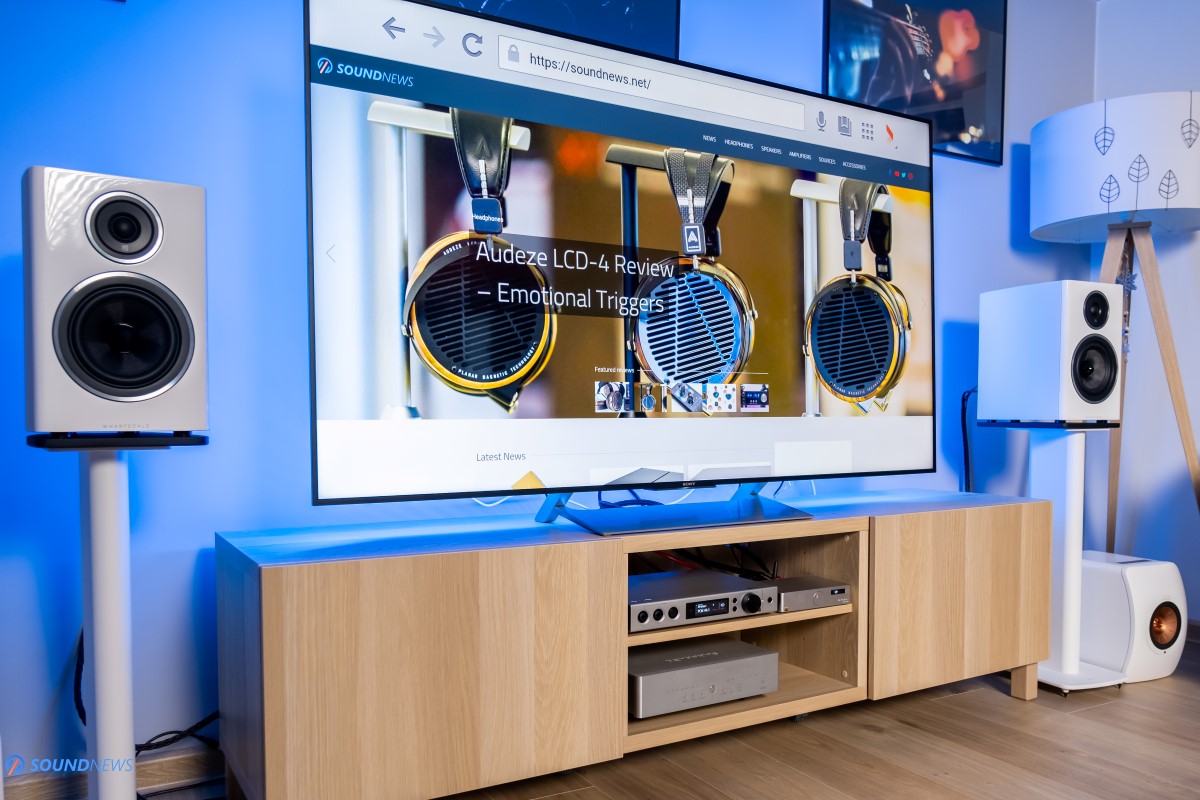 6. Test Equipment
I wanted to squeeze the best out of it, so I decided to use the Matrix Audio element X as the streamer and DAC for this test, I used QED Reference balanced XLR interconnects between the two, SMSL DA-8S worked as an integrated amplifier and it was driving a mid-range pair of speakers - the $600 Wharfedale Diamond 11.2.
I have the Diamond 11.2 for a longer loan. I even reviewed them alongside other 3 pairs of speakers in this interesting comparative review, so I know them pretty well while being driven by a Cambridge Audio Azur 851A and by a Hegel H160.
OK everyone, time to hit some eardrums.
7. Sound Performance
Wharfedale Diamond 11.2 is not that easy to drive, at a sensitivity of 88 dB / 2.83V / 1m you will need a nicer integrated to awake some dynamics. With my former Azur 851A, I was almost volume maxed to drive these speakers. With DA-8S my normal listening level is at 35 position out of the maximum of 60 and I could never go past 40 volume level. The power reserve is great, I didn't expect it to have such a big power, even the $600 Burson Bang was almost maxed out with this particular speaker.
7a. Noise floor
If I pause my music with it at maximum volume, I could barely hear any noise out of the speakers. Do note that I am feeding it a serious 4.5 V signal from the DAC so the background noise should be amplified. DA-8S performs admirably in terms of noise, it is free of any gremlins, sounds clean and grain-free all the time. If you are listening to a crystal-clear recording, then DA-8S will play it in the same fashion with the same silence between the notes.
Background noise stays under good control, I presume that the digital volume control chip played a big role in achieving a lower noise floor. I am hearing a louder noise floor with the $599 Burson Bang at close to the max volume which is not that bad, considering that I can't listen at that volume. It obviously depends a lot on the speakers used, Diamond 11.2 is not that sensitive but they can show a dirtier input signal.
7b. Tonality
Diamond 11.2 played at my place for a few months now so I get to know them better. They have a slight V-shaped type of sound with a recessed midrange but with a detailed and layered bass and top octave. With DA-8S, I am basically experiencing the same sound as with my former flagship integrated amp, with just a hit in the soundstage and depth departments. DA-8S is mostly linear sounding, it will enhance the best and the worst parts of your speakers. Sure enough, midrange sounded drier, exactly how it was rendered on Azur 851A. The sound was more technical than musical, everything sounded defined, detailed, clear and precise.
Having a linear and a colorless type of sound, system matching is crucial with this amplifier. I would personally use some warmer sounding speakers that could infuse a bit of joy and soul into my music. I'm reminding that this is not the fault of the amplifier or of the source, but of the speakers themselves. I feel that it doesn't roll off anything in the frequency range, I can still hear bass notes hitting me from multiple angles thanks to that Slot-Port bass-reflex, I can clearly hear the top octave and the good frequency extremes on both ends.
7c. Transparency & Resolution
DA-8s will not offer the last bit in terms of resolution, but I still can hear some of those tiny details I am spotting with higher-priced equipment. There are still lots of treble extensions, the bass has good control, transparency is nice too but the resolution takes a small hit. Thanks to a larger soundstage level of this speaker, the music sounds quite transparent and airy but the resolution is not on the same level. There is just a thin layer of veil compared to the best-integrated amps I've tried at my place.
It sounds just by a hair clearer than $599 Burson Bang, but less detailed than $1,500 Azur 851A and clearly less technical than $3,500 Hegel H160. Sincerely now, at $169 I cannot complain, does it sound 9 times worse than the Cambridge Audio amp or 20 times worse than the Hegel? Obviously not and at $169 it already impressed enough and seems to have unbeatable value for audiophiles on a budget.
7d. Transient Response
I don't know how SMSL pulled this one, but DA-8S sounds faster than both the Burson Bang and a bit faster than the much more expensive Azur 851A. Hegel was clearly ahead on everything, but it shouldn't be a surprise.
Diamond 11.2 is using a Woven Kevlar cone to render the bass and a textile dome tweeter for the treble. Both the Woven cone and the dome tweeter need a faster sounding amplifier if you want to hear some of that slam and impact in the chest. With the right music, DA-8S was pushing decent amounts of air in an instant and would create a nice kick in the chest. Listening to Infected Mushroom – Guitarmass (Head of NASA and the 2 Amish Boys, 2018) was quite a feast in terms of dynamics. Transients were sounding fast, the air moved in an instant, slam was enough and the overall experience was enjoyable and toe-tapping. Damping factor seems to be enough for these speakers and with most midrange bookshelf speakers it should perform decent, good or great.
7e. Soundstage & Depth
Among the few downsides of this integrated amplifier is the soundstage size compared to other units. Diamond 11.2 has a Slot-Port type of bass-reflex so in general, they sound open and wide, with bass notes hitting from different angles, not from a single spot. With DA-8S the stage is shrinking a bit to medium size, I don't hear the music coming from behind the speakers anymore, creating a huge 3D image in front of me. DA-8S is making the music closer to the listener, depth is shrinking too that creates this cozy and up-front presentation. It depends a lot on the speakers, but I can identify a bigger soundstage with another integrated amplifier. Costlier integrated amps sounded bigger, carried more air, filled the room nicer, giving the impression that sounds are coming from behind the wall and not from the speakers themselves.
7f. Frequency Response
Bass felt nimble, fast and really tight. Diamond 11.2 are not amazing in terms of sub-bass, but thanks to a stronger grip, it made its appearance on few songs. Having gobs of power is one thing but controlling all that power is sometimes more important, especially with faster music. SMSL has a good driver control and presents a nice grip over the bass. Mid-bass was rendered nicely and felt immediately in the chest. Faster electronica sounded as I remember it with just a small roll-off in the sub-bass that can't be solved with a bookshelf speaker.
The midrange is neutral sounding to a point of becoming dry and uninvolving, I am again blaming the speakers as they sounded the same with fancied integrated amps. The midrange is more technical than musical, with clean shape and leading-edge but without much soul and texture. It is lightweight, with less meat to the bone, but clear and detailed most of the time. I consider its midrange and soundstage the biggest cons of this unit, you really can't have them all in a $169 package. When I connected it to a warmer sounding source as FiiO M15 (based on AKM4499 DAC chips), the midrange becomes fuller sounding, soundstage increased in size and a lot of those lost emotions came back. As I said before, system matching is important with this one and with a right setup it could shine with naturalness, smoothness and it can even push a bigger and more believable stage.
Treble is extended no doubt about that. Even the top octave is crisp and detailed. It extracts treble information really easily without too much hassle. Cymbal crashes and double drums carried lots of energy and had a clear leading edge. With this particular set of speakers, it was just a tiny bit on the hotter side, it attracted more attention in this area, giving an impression of detailed and transparent sound.
All in all, I consider it having a flat frequency response, it is extended on both ends without obvious drops or rises. The dryness I felt in the midrange can be attributed to Diamond 11.2 as they sounded the same with other amplifiers.
7g. Bluetooth input
It is really easy connecting a smart device with the SMSL DA-8S, just select the BT input, search for "SMSL BT5.0A" with your smart device, connect to it and that's it. My smartphone supports all the latest Bluetooth codecs and it is version 5.0 compatible. It connected via AptX, it seems to be the best BT codec supported by DA-8S.
With DA-8S being in the living room, I took my phone and walked in all the rooms trying to disconnect it, I even left the apartment and the signal was still going strong. I couldn't disconnect it and even with few concrete walls between the source and DA-8S, the BT signal would remain strong and I actually never lost a beat.
I engaged Tidal Hi-Fi and streamed lossless CD-quality tracks (16 bit / 44.1 kHz) for about 2 hours to get a stronger impression. As much as I liked the DA-8S in pure analog mode, it lacks quite some details while streaming, the transient response took a serious hit and the biggest hit was felt in the low end.
I listened to the same songs via XLR and then via Bluetooth. Guitarmass by Infected Mushroom is an amazing track in terms of speed, slam and bass control. Via XLR fed from the Matrix Audio Element X, it sounded really good and I tapped my feet. When I switched to Bluetooth, I started searching for the low-end with my ears, slam almost disappeared, bass layers went missing and this song started sounding way too smooth and slow, completely unrecognizable. Some of the frequency extremes went missing, I was not impressed.
When I moved to slower acoustic music, the impact on the musical performance was much lower, as the speed and slam didn't matter anymore, there isn't a lot of bass in acoustic music either. The only thing that bothered was the detail that was lost, DA-8S again sounded muddier, with fewer details and having a weaker driver control.
On the other hand, when I asked my wife if she feels any differences, she said that it sounds way more relaxed via Bluetooth and she liked it this way while listening to Katie Melua and Pink Martini. It really depends on the listener and how important is the technical aspect for the listener. If you are a casual listener, it might not bother you that much as it did for me.
7h. A comparison
Burson Audio Bang (Update: was $599, now is sold for $199) VS SMSL DA-8S ($169)
Burson Bang is just a power amplifier, it doesn't have a volume control, you will need to use a preamp with it, a DAC with volume control or any other source with volume control. It has a single RCA analog input and a pair of speaker outputs. No displays, not a single button, no volume control, just a single LED that will show its working status. It works in Class-A and offers half the power of DA-8S: 40 Watts in 4 Ohms.
Bang sounds warm, full-bodied, has a lot of bass and midrange presence but not a lot of treble information. Burson Bang is all about slam, it is very saturated and vivid in its presentation. It doesn't offer a lot of details, doesn't sound very big or really deep, but has always a pleasing and natural presentation. It actually improved the drier midrange of Diamond 11.2 and even added a layer in the bass. Bang is not a linear sounding amplifier, it is warm, full-bodied and bold sounding all the time.
SMSL DA-8S, by comparison, sounded more linear, more technical, clearly more detailed, it showed additional information in the treble. DA-8S sounded faster and more controlled, but weaker when it comes to slam in the bass. It is faster but gentler with the kicks in the chest. I have a lot more power on tap and the headroom feels almost limitless. With Bang I am almost maxed out on my DAC and as a result, soundstage collapses and becomes smaller than that of DA-8S.
With a super sensitive bookshelf speaker where 40W of power would be enough, Burson Bang will sound livelier and just more interesting. With heavier loads, DA-8S is sounding better, driver control is improving and frequency response just feels complete without obvious flaws.
Bottom line is that DA-8S sounds more technical, more extended in the FR, more detailed, offers double the power and it is much cheaper. When it comes to value, DA-8S is just unbeatable.
8. Conclusion
At $169 this is the most affordable integrated amplifier that I know and that can stand shoulder to shoulder even besides costlier units. The jump from older DA-8 to DA-8S seems like a massive one: you get double the power, additional input was added and 100 bucks were slashed from its price.
If I never knew the price of this unit, I would bet I am listening to an integrated amplifier in the $400 to $600 price range and that says a lot about its performance. At just a fraction of the price, SMSL DA-8S offered a balanced sound across the board. It didn't sound as transparent as Hegel H160, nor as refined as Cambridge Audio Azur 851A, as warm and bold as Burson Audio Bang, but when I wasn't analyzing my music and played it for pleasure, none of that mattered as DA-8S offered exactly what I needed to relax and feel good.
PROS:
Solid build quality
An impressive number of inputs
Stays cool even after 6 hours of music listening!
Extended frequency response
Linear/neutral sounding, zero coloration
Deep and controlled bass, clean top-octave
Low distortion at loud levels
Fast and nimble transient response
Decent fluidity and smoothness
Incredibly powerful for this size and price
The best value as of right now
CONS:
The soundstage is not that impressive
Muddy and slow sounding on Bluetooth
The OLED display is too small (to be used in the living room)