This review is posted here in partnership with
Soundnews.net
. It was originally written and published by Sandu Vitalie of
Soundnews.net
on Nov
. 5, 2019
.
---
The headphone jack of modern smartphones looks like a beautiful forgotten dream and since no one wants to use outdated smartphones just for their headphones jacks, the audio industry needed to wake up from a bad dream and quickly adapt and develop a new type of product that a few years ago didn't even exist: mobile DACs and headphone amp combos that could work perfectly connected to a smartphone. The requirement was pretty straightforward: it needed to be battery-powered, it shouldn't drain the smartphone battery, it should offer a decent DAC chip and a clean, yet powerful headphone amp section.
Easier said than done, right? Take a look at the first generation attempts from AudioQuest, FiiO, Chord Electronics or others, those were almost good, some of them drained the battery of the smartphone, some of them worked great with iOS devices but not so good with Android devices and vice-versa, but in time those products grown-up to something much better. iFi iDSD BL is that kind of outstanding product, FiiO Q5S was also quite good, although I will probably never understand why it didn't have a micro-USB to USB-C or USB-C to USB-C cables in the package, Chord Mojo sounded good with normal sensitivity headphones and quite bad with super-sensitive ones. xDuoo XD-05 was also a pretty nice device, offered a lot for the modest asking price. It had however few quirks: the battery life at only 11 hours was not that great, the 500mW output power in the 32 Ohm load was decent but not enough and the USB Type-A input would mean larger and uglier cables or adapter cables were needed to connect it to a modern smartphone.
xDuoo learned from its mistakes and updated it with the fresh out of the oven XD-05 Plus. So, in simple words say good-bye to XD-05 and welcome the newest XD-05 Plus that will be replacing it. I'm glad to report that all the issues I mentioned before were solved with this one and today I will be testing it.
So, what exactly was changed or improved on the XD-05 Plus?
USB Type-A and micro-USB were dropped in exchange for a dual USB Type-C input, one for charging and one for the USB connection with external sources
The DAC chip was improved, gone is the aging AK4490 and it made room for the newest AK4493 from AKM
Output power doubled. No jokes, from 500mW in 32 Ohm it sits not at full 1 Watt of power at the same impedance
Battery capacity is larger now, from a 3.7V 4000 mAh it was changed with a 3.8V 5000 mAh and the run time rose from 11 hours (on the USB input) to 13 hours
The USB input chip was improved, XMOS U8 was replaced with the newer XU208 which supports higher sampling rates as 32 bit and 384 kHz
The newest device carries multiple ultra-low-noise voltage regulators for the LPF, for all the digital inputs and for the amp section which should reduce hiss and lower the background noise considerably
It can now use a single dual op-amp (it has one from the factory) and two single op-amps of your choice. It has two DIP8 sockets so op-amp rolling is a big part of its DNA
XD05 Plus has also an impedance match switch called Boost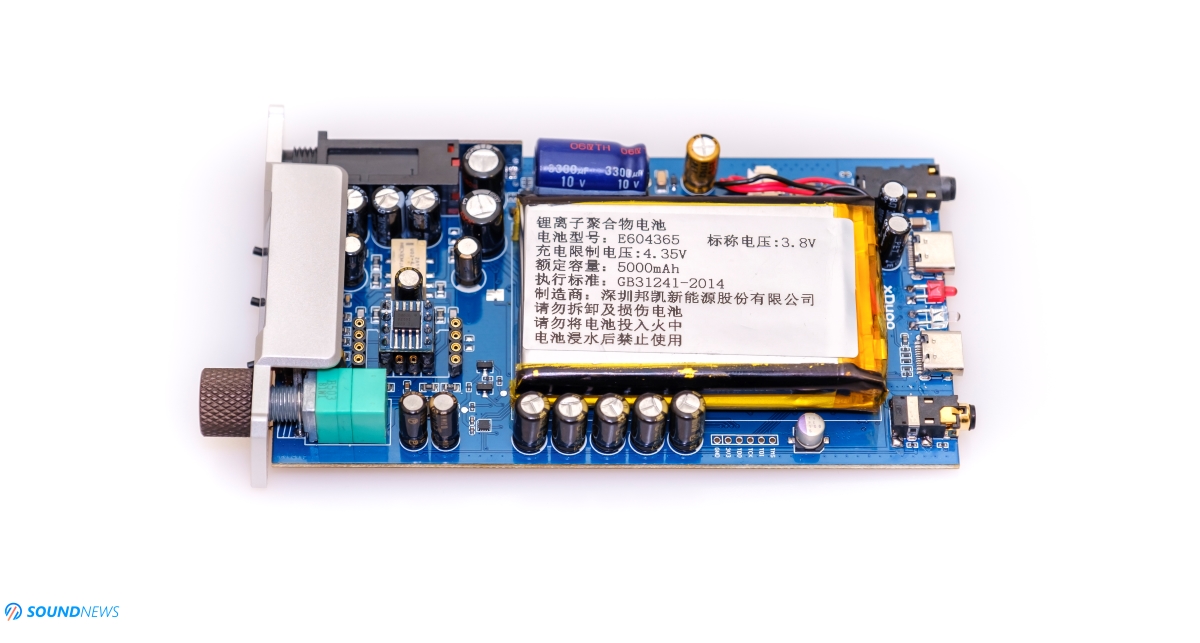 1. Unboxing experience
The experience was really positive, apart from the usual black thick box and extra padding inside I found some accessories that made me feel better, let's take a look:
A warranty card and a quick start guide
10 silicone feet in case you want to use it as a desktop device (4 for it, 6 extra ones)
2 soft plastic headphone jack covers. In case you don't use the AUX In or the Digital In, you can cover those for a cleaner look
4 extra screws in case you'll lose some while op-amp rolling
A 1/4" to 1/8" (6.35 mm to 3.5 mm) headphone adapter
An xDuoo branded silicon spacer to put between it and your smartphone
A USB Type-A to Type-C longer cable to connect it to a desktop source (PC/Laptop/MAC)
The big surprises for me were the two short USB Type-C to Type-C and Type-C to Micro-USB OTG adapter cables! Yes, finally! These two made my day, thank you xDuoo!
So, it is clear to me that XD-05 Plus caters more for the Android users with two cables that should cover all Android OTG capable devices.
2. Design & Build Quality
Newest XD-05 Plus looks exactly like the older XD-05 with just a few small changes that I will mention. Of course, the USB ports were replaced with USB-C, the input switch was moved to the left side and made room for a "Boost" button. xDuoo doesn't explain what this button really does, but of course, I needed to test it myself with a 20 Ohm planar-magnetic headphone. It sounds snappier and more dynamic setting it in the low Boost position and slower and not that engaging in the high position. It made a much smaller difference with higher impedance Hifiman Arya and close to zero difference with high impedance headphones like Sennheiser HD660S. I can definitely say that this Boost changes the output impedance of the headphone jack. I strongly recommend leaving it al low position most of the time since it will have a better driver control and a faster pace. You can engage it if you like only with higher impedance headphones (100 Ohm and up) but the sound difference is close to zero, if any.
The left and right sides have an unusual wave-like shape, it is obvious this decision was made for a much wider contact surface with the exterior world for better heat dissipation. Those thin holes on both sides were also put there so it can better dissipate some heat.
The metal surface looks like a sand-blasted surface, it has a matte silver look and I'm sure it will better absorb scratches or accidental drops. Size-wise it is not that big; it is smaller than a Xiaomi Mi Mix 2S (6" screen) on both width and length and it is closer size-wise to an iPhone 8 or XS.
Overall, it has a simple and straightforward design and I think I like the newer futuristic xDuoo logo, the older one looked outdated to me.
3. Buttons & Layout & LCD Screen
The front panel houses a bright blue OLED screen that shows all the important importation like the selected input, the sample rate, the PCM filter, and the battery level.
There is also a big ¼" (6.35 mm) headphone jack, an analog volume pot and 3 switches: Boost – the one I mentioned before, an On/Off bass boost switch - according to manual it adds 6dB in the bass region, there is also a 3-position gain switch – low (0 dB), medium (+ 3dB) and high (+11 dB). I strongly recommend changing the gain position only if you don't have enough volume in the low position. With all my portables and IEMs, it was super loud even on the low gain.
The left side has 3 additional buttons: input button, SRC button – this one works only if the Optical/Coaxial input is selected, it converts the sample rate to 48, 96 or to 192 kHz if you are using these two digital inputs, I recommend leaving it at 192 kHz. The last button is the PCM filter button that will toggle between 4 filters: PCM1 - sharp roll-off, PCM2 - slow roll-off, PCM3 - short delay sharp roll-off and the last PCM4 is short delay slow roll-off filter, use the one you like the most but sincerely they make a very small difference to me.
The back panel houses a line-out/line-in jack, a USB-C input, a USB-C charging port, a 3.5 mm Digital input (coaxial or optical) and two small LEDs that will indicate if it operates normally and if it is charging.
4. Under the hood of XD-05 Plus
Here is where all the magic happens and where xDuoo engineers were given the freedom to express themselves.
Since xDuoo is encouraging its customers to open it up, this is exactly what we did. I'm glad to see it beautifully engineered with lots of top components including audio grade capacitors.
xDuoo updated its internal DAC chip to the newest AK4493, together XUF208 from XMOS the USB connection should be stable and free of any issues.
The final headphone amp stage is being powered by a dual OPA1612 op-amp put on a socketed SOIC to DIP8 adapter. You can basically use any dual op-amps even smaller SOIC ones put on an adapter like the stock one. Even two single op-amps can be used. For fun, I tried putting two V6 Vivid by Burson Audio but sadly they have a larger plastic body and two of them cannot fit inside. But I think a single V5i-dual by Burson or even a single SparkoS Labs SS3602 should fit in nicely.
The stock dual op-amp produces an impressive 1 watt of power into 32 Ohms on the high gain, having a smaller body I already know this can be considered as a portable "desktop" amplifier, actually xDuoo themselves are calling it this way. It offers lots of power, even for top-tiered desktop headphones.
XD-05 Plus is using a dual clock system controlled by a programmable Altera FPGA for the best results.
The only things that are missing on XD-05 Plus are the Bluetooth capabilities, xDuoo knows that so they developed a small extension device that hooks up on its back called xDuoo 05BL that adds Bluetooth 5.0 support, including SBC, AAC and aptX codecs. 05BL will add another $55 to the cost.
Speaking about costs, XD-05 Plus can be purchased for $260.
5. Sound Performance
I first connected it to my desktop PC and let it play for the whole night, I recharged it and repeated the process 3 times. XD-05 Plus doesn't have really big capacitors inside or a lot of them so I feel it doesn't really need more than 40 hours of burn-in to achieve its fullest potential.
Since I am not a big fan of bass boosters, I left it Off most of the time and listened to some favorite tunes.
I started my day with some folk-rock that is dear to me and to my big surprise on the high-gain at the 12 o'clock position Hifiman Arya was already super loud for me so XD-05 Plus has a lot of power under its belt. xDuoo drove them almost to their fullest potential, they offered good dynamics, sweet harmonics tickled my ears and it sounded more like a desktop device than like a portable device. I was already not surprised to hear that Quad ERA-1 were fully driven at mid-gain, the high gain was already too much for them. At mid-gain volume-wise I was sitting at 12:30 and the sound was really sweet, engaging as I started tapping my feet. Low Boost mode sounded the best with them and I started repeating to myself that this is a battery-powered device so I should expect the same result connecting it to a smartphone, with XD-05 Plus I can finally travel with my ERA-1 wherever I go.
With ERA-1 and with my eyes closed I would swear I am listening to a desktop wall-powered rig. They sounded very close to how I remember them on my big rig so that is a big compliment to the XD-05 Plus.
Since this device carries a desktop DAC chip and more importantly an AKM DAC chip, the sound is a bit wider and deeper than usual, this is exactly what made me feel it sounds more like a desktop unit than a portable one. It sounds quite decompressed and pushes away the notes a bit. Crowded music is not that big of a problem anymore as the empty space between the notes increases a lot.
The more I listen to it, the more I realize this one was made for relaxing moments where I would just grab something to drink, press play, lean back and relax for an hour or so. XD-05 Plus is not a super technical-sounding device, so there isn't a lot to talk about on the microscale and it mostly wants to awake some emotions and grab your attention with musicality and good dynamics.
Speaking about those, dynamics expressed themselves nicely and if the music will call for some quick and fast executed notes, it will bring those instantly, xDuoo has good dynamics and my bigger headphones proved that. The only headphone from my stable that wasn't giving me 100% was the Hifiman Arya that was never developed to be used with portable devices in the first place.
When I moved to a few extra sensitive In-Ear-Monitors things took a different turn.
Putting it on mid or high gain and pausing my music the noise-floor was very audible, however, if I would press play the drivers would burn so this is not the true way of testing the noise floor. I put it on low gain and maxed the volume and there was a faint noise, barely audible, again if I would press play I would probably damage those drivers. My normal listening level with IEMs is somewhere between 9:30 and 10 o'clock, it gets loud really fast even on the low gain.
At my listening level, even higher than that at 11 o'clock, the noise floor drops to a point so I can't detect it anymore. On this volume level my IEMs sounded gorgeous, they kicked and pumped incredible dynamics. Driver control was really impressive in low boost mode and on the low gain. No complaints here, they sounded at its fullest.
With all that said, this is not the blackest background I ever tested, the only gripes I have is compatibility with IEMs and the volume – it gets loud and really fast even on low gain. Somewhere between 9 and 9:30 on the volume wheel, there is a volume mismatch, this is analog volume pot and every other pot does this to a smaller or a higher degree, going past 10 o'clock the volume would be perfectly balanced between the right and left channel.
Now, take into consideration that FiiO FA7 or the Simgot EN700 PRO is not the most sensitive IEMs so your mileage may vary but I still think that at the listening level (so not at max volume) the hiss stays under strict control and should not be heard.
With those detailed sounding IEMs it grabbed my attention with a velvety, seductive and inviting character, the emphasis was put on fast dynamics but also on musicality, smoothness, and flow.
The frequency response is mostly neutral, with just a hint of extra topping in the midrange area where I think it shines brighter.
Sub-bass was not the hardest kicking but it was there when was called for. Bass notes had a medium speed of delivery, neither lighting quick nor boringly slow, I would personally like a snappier and faster approach in the bass delivery, but I suspect the default op-amp is doing all that and a higher performance one should remedy this small issue. If you craving for some ear thumping bass: remember there is still a bass enhancing switch that adds about 6 dB in the sub and mid-bass area and indeed with it engaged quantity-wise there is much more of it, speed and quality-wise it remained the same.
Mid-bass is better defined without being overdone, just a pinch higher than linear to induce those sweet harmonics and some of the fullness and natural tonality into the mix.
Midrange is of course where XD-05 Plus shines the most, from female voices to string instruments, flutes, and saxophones, all those sounded more present, more alive, more upfront and more outlined. It carries more weight and puts a small emphasis in this area, this is my favorite frequency area and I cannot complain, it grabs my soul as it adds a bit of musicality and brings emotions from my favorite tunes
Treble has a good outline and sounds clear without adding brightness. It is not the most extended one, so don't expect a lot of sub-sonic treble information but it also doesn't have any glare and doesn't vibrate more than needed. Cymbals have the right speed and are decaying pretty fast, double drums are sounding like that and not like a muddy blob of treble. I personally like this approach and it will pair nicely with V-shaped or treble oriented headphones just fine.
6. Comparisons
xDuoo XD-05 Plus ($260 USD) VS iFi Audio Micro iDSD Black Label ($600)
iDSD BL is much bigger, heavier, uses a dual DAC chip configuration, has a more powerful headphone amp section, includes a lot of bells and whistles like 3D+, Xbass+ and it is also much more expensive. To me, iDSD BL is not really portable, more like a transportable device. I have big jeans and pockets and yet I can't fit them into those. Yes, it can be used as a portable device but it is not that practical in real use.
XD-05 Plus is the border-line for me what can be considered portable, more than this and it's transportable, it is still a bit bigger than other devices like FiiO Q5S or the super tiny Audioquest Dragonfly.
Specs and price aside, iFi iDSD BL sounds really good, no questions about that. It leans towards a fuller side and puts a lot of effort into having a great bass and midrange performance at the small price of linearity. Yep, iDSD BL is not that linear in my book, but really engaging, enveloping, it's like alcohol, you know it kills you and yet you drink it with a big smile. iDSD BL sounds like that, big and effortless and it rises your mood pretty fast. If I would describe it in a single word it would be definitely: effortless. It drives anything with a hard grip and control, it didn't lose a beat even with Hifiman Arya. An outstanding sounding audio device at the price of Hulk pants and pockets.
I first thought that XD-05 Plus would be completely destroyed by it, I put it in low boost mode, I engaged high-gain, I put my tin-foil hat on and I listened to the same songs by Zdob si Zdub – Bestiarium (New album released 2 days ago). With Hifiman Arya the sound was smaller, not that controlled, the bass and midrange emphasis was not obvious anymore and I've heard a more linear and correct sound, with the same level detail retrieval and extension of both ends. With Hifiman Arya, iDSD BL sounded super controlled and hard kicking, by comparison on XD-05 Plus they sounded less punchy and dynamic, but the final performance didn't suffer too much. With easier to drive headphones like Quad ERA-1 the difference was even smaller, because the ERA-1 is not craving for lots of power on tap and because those are not hyper-detailed headphones like Arya is. So, the difference between the two was much smaller to a degree that I could differentiate them only by the enhanced bass and midrange of iDSD BL!
So, in the end, iDSD BL was better but that is understandable given the price difference. XD-05 Plus did hold the line well and performed unexpectedly good, especially with normal sensitivity headphones.
This time around Q5S is smaller, cuter, easier to carry around and this is what I would call a truly portable device that can work on the go or at home.
Spec-wise Q5S is using the same DAC chip, but has two of them, uses swappable amp modules but offers much less power output, about half of XD-05 Plus. Q5S has powerful Bluetooth capabilities that are built-in and it also costs an additional $100.
Using Hifiman Arya there is not even a contest about it, XD-05 Plus sounded fuller, more controlled, punchier, more dynamic and added more layers to the music. Moving to easier to drive ones like Quad ERA-1 the difference between the two shrinks again, yet those kick a bit harder on xDuoo and the sound is deeper as well. Moving to sensitive IEMs the Q5S will offer a blacker background and the overall performance is by a hair more resolving and detailed. xDuoo sounds more imposing but has less refinement because of the higher noise-floor. I believe it's a tie here, with harder to drive cans I prefer the XD-05 Plus and with sensitive IEMs Q5S will win most of the time.
7. Conclusion
I'm glad xDuoo further improved their design offering double the power and at the same time having a longer battery life at the same size. Take note that I have tested the XD-05 Plus only in its stock form, I'm sure it can be further improved with some better op-amps, discrete or not, single or duals, any op-amp will work with it.
Build quality-wise there is nothing to complain about: it's matte silver, it's sandblasted, it doesn't attract a lot of attention, the LCD screen helps knowing which input is engaged, what's the battery level and it's not that huge really.
Sonically, as a DAC and headphone amp combo it worked great as a desktop unit powering some really nasty planars and quite good as a portable device powering dynamic headphones or some higher impedance IEMs.
Can you really ask for more at $260? I personally find a lot to like about it and little to nothing to dislike about it.
PROS:
Industrial looking design, great build quality
Very good selection of accessories, those 2 short adapter cables made be really happy
Sounds wide and deep most of the time, never crowded or up-front
Has a natural tonality carrying a good flow with every note
Sweet sounding midrange with a good bass control
Decent detail retrieval and transparency
Sounds lively and engaging offering a good slam when needed
Lots of power on tap, and can drive almost everything
Op-amp rolling at its finest (single or dual op-amps are supported)
An impressive value!
CONS:
Higher noise-floor with super sensitive IEMs so don't expect the blackest background
The volume rises fast even on the low gain setting with sensitive IEMs